QR Ticketing with Easydus
In Easydus you can easily create tickets in various formats, with or without QR codes. For (paid) admission tickets, badges, participant passes or logistical papers. QR codes can be scanned with the Easydus Scanner, which can be found in the Android and iTunes App stores. In addition to a good check, you also have a real-time overview of who has already arrived or who has already collected his package. Badges or other documents can also be printed (automatically) upon arrival of guests at the desk.
Admission Tickets
Name- or accreditationbadges
Parking tickets
Admission cards
Table placement
Gift cards
Personal programm overviews
Diplomas or proof of certification
Collection tickets
Reception tickets
Designing

In your Easydus tool environment you can design and generate your ticket or personal document, with or without a QR code. Entirely in your own personal style.
Sending tickets

The visitor receives the ticket by (automatic) mail, for example immediately after making an iDEAL payment or shortly before the start of the event.
(Multi-) Scanning

Scan the QR code with the free Easydus Scanning App. Check on the validity of the ticket or voucher, all relevant info on the app. Direct processing in Easydus overviews.
Printing

After scanning or personal reception at your event, the printer can immediately print a badge or ticket, with or without the individual program of the participant.
Realtime overviews

Seeing real-time who is inside the event location and who is not. Overviews are available within Easydus system itself or via a link to a real-time overview that can be published. Extensive search and filtering functions
Design your personalized (QR) ticket within your Easydus environment entirely according to your own wishes and styling
Choice of different formats and types of tickets, including participant cards, name badges, workshop layout.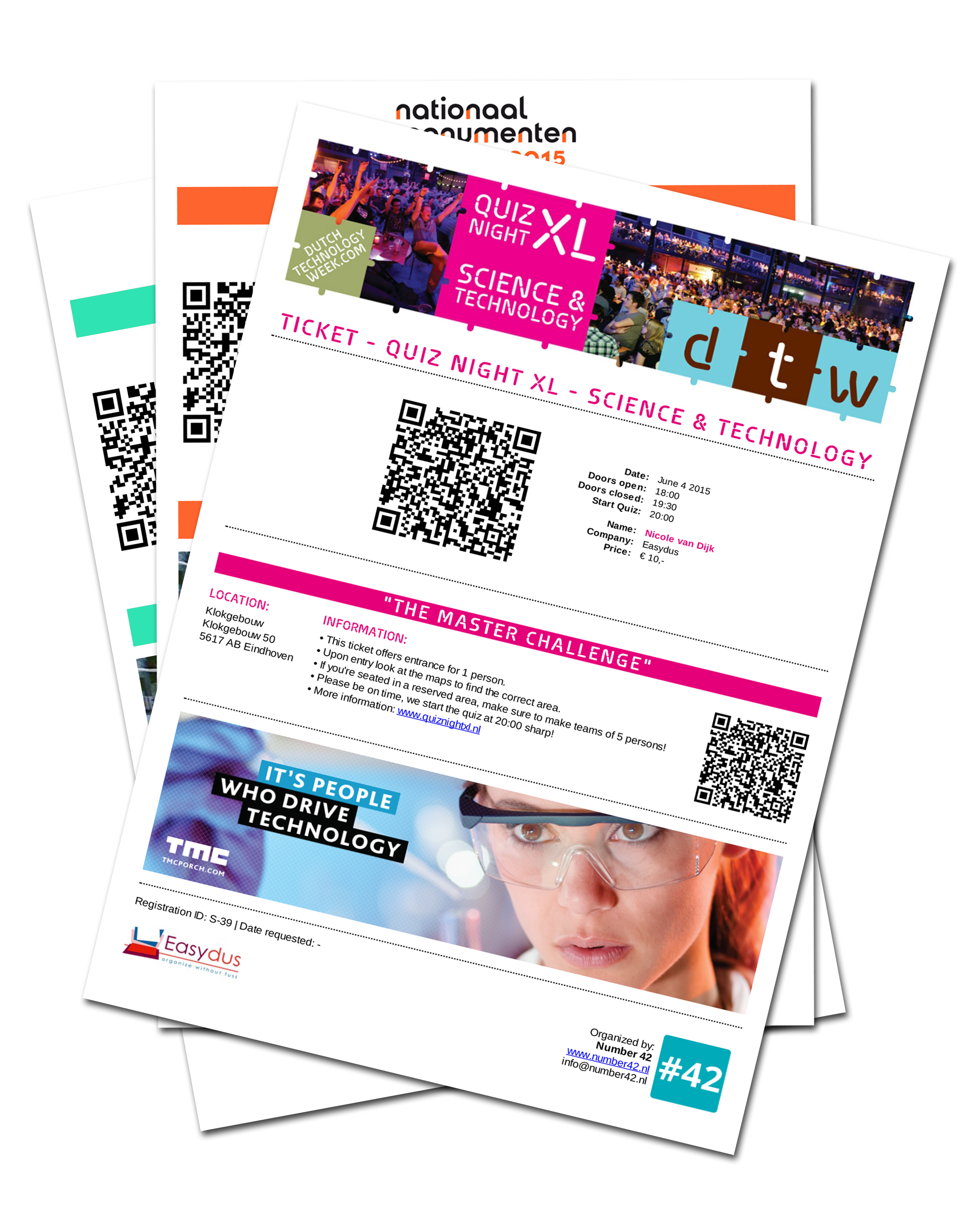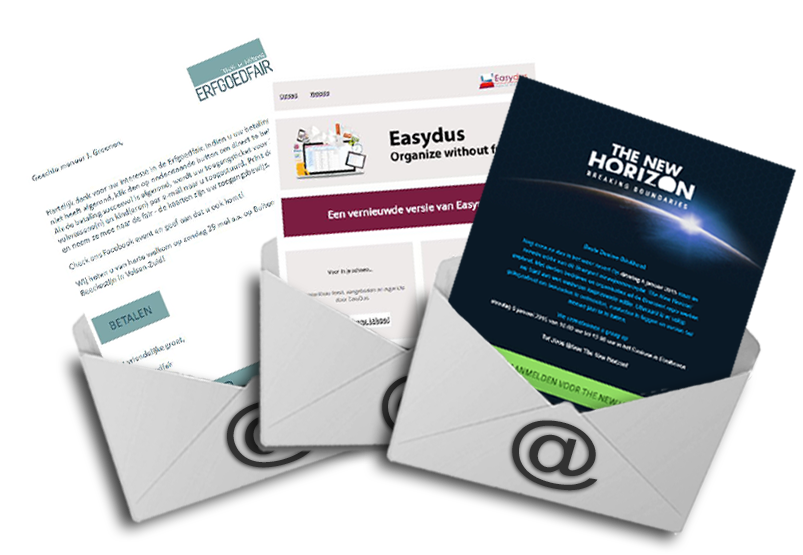 You can decide for yourself whether you want to send a document in advance or print it out at the desk when you register the participant
You can send the document directly with the invitation, automatically immediately after the registration or at the receipt of payment, or with a manual e-mail shortly before the start of the event.
In your Easydus environment there is feedback which respondents may not have received your mail
With smartphone or Tablet
Make sure your device is connected to the internet. Download the app via the Google Play Store or the Apple app store. Click the app open, and log in with the same username and password that you use to log into your Easydus environment. You can scan directly.
Display the QR code fully, and keep your device still to continue automatically.
Information about the ticket will be displayed once the QR code has been scanned.
- Green = ticket scanned correctly
- Red = incorrect / previously scanned
The QR code can not only be scanned from a printed paper ticket, but also from a mobile device, such as a tablet or smartphone.
With Multi Scanning you can scan the ticket on multiple locations or multiple points of time. Examples are that a attendee can attend multiple workshops or multiple exposition stands. Other applications of Multi Scanning is that you can follow people in sport matches where they are located (Start, position 1, Finnish). Other applications are that you can follow materials in a logistical process.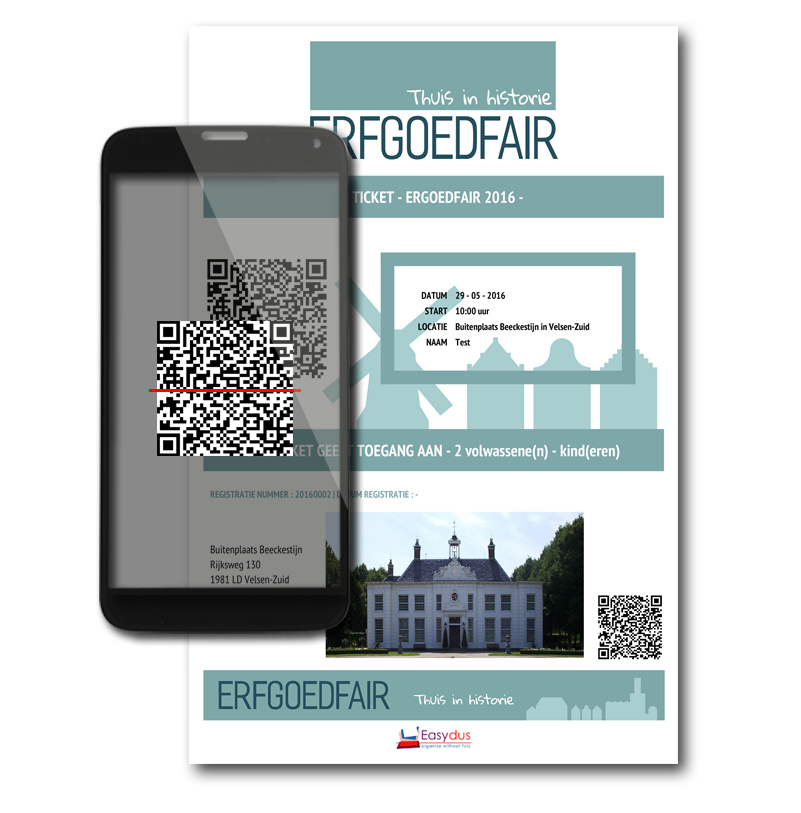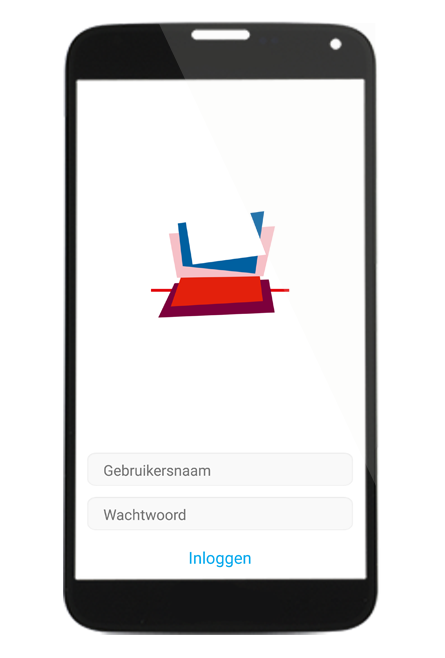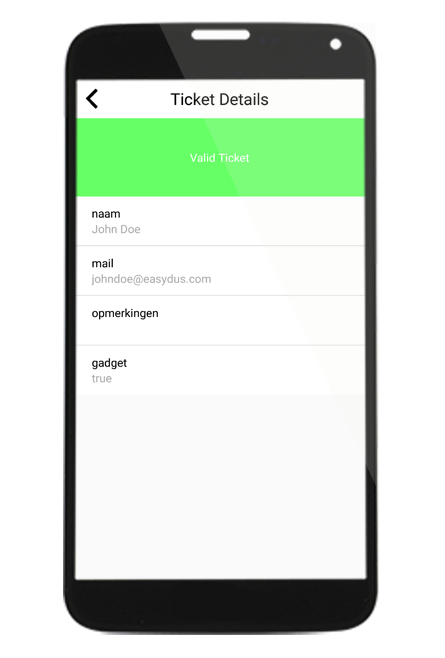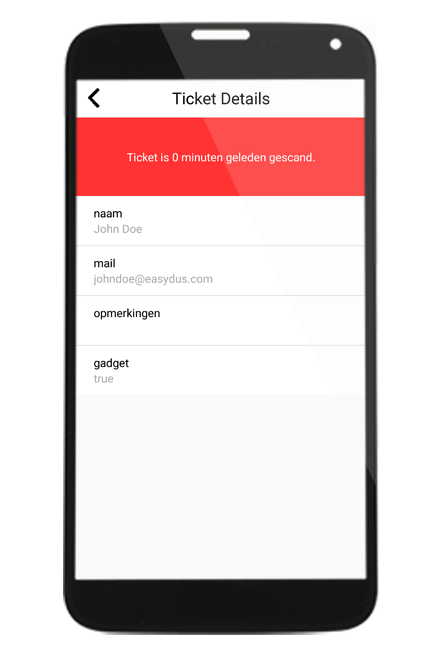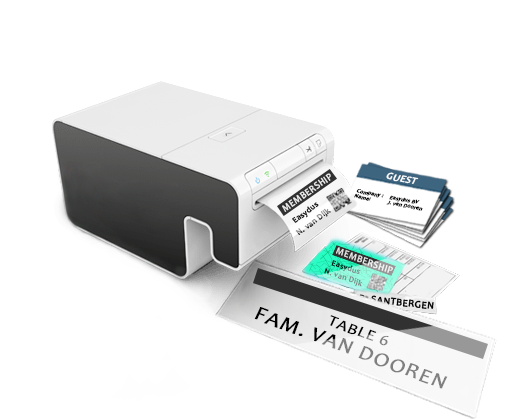 Badges or participant cards can be printed on arrival by quickly searching this person in your Easydus tool upon arrival and clicking on print ticket.
With an extra tool you can even print automatically when scanning the entrance ticket!
A good (internet) connection between the devices and printers is of course essential here.
Always a real-time overview in the system of who is present or to whom something has been awarded.
Easy-to-share real-time overviews via an HTML and / or CSV link.
Easy follow-up of communication to participants and other parties during or after the event, also for example to no-shows.